Dishwasher
Question Topic
Dishwasher Mold Formation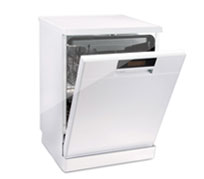 Home-Wizard™ calculates your ideal home care program to avoid problems with your Dishwasher, but sometimes trouble can still occur. Here are answers to questions about dishwasher mold formation.

QUESTION FROM Kimberley Layman
QUESTION from Kimberley Layman on 4/24/2009
how do I prevent mold from forming behind the dishwasher when I close the house up for six months
---

ANSWER FROM HOME-WIZARD
Dear Kimberly:

When you say "behind" your dishwasher, do you mean behind the entire unit? Or do you mean behind the door (that is, inside of your dishwasher)?

If you mean behind your unit, do you have water leaking there now?

Regards,
Home-Wizard.com

FOLLOW-UP FROM Kimberly
QUESTION from Kimberly on 4/24/2009
Yes, I mean behind the whole unit. The original one was just removed, it broke down and when they took it out there was mold back there. They used clorox with water and cleaned and used a fan to dry it,but are worried that in 2 weeks they leave that house for six months and want to know what they should do to prevent mold while they aren't there.

thank you
---

ANSWER FROM HOME-WIZARD
Dear Kimberly:

Since your problem is behind your dishwasher unit, here are a couple things you should consider:

o The most important thing is to figure out what was leaking to have caused the mold to start in the first place. Possible causes include: a leaking pipe; a leaky pipe connection; poor dishwasher door seal; plugged drain that caused water to back-up; leaking water from your sink that got behind your dishwasher, etc. If you don't stop the source of the dampness, then the mold will definitely come back.

o Washing the mold affected with clorox bleach may not be enough to get rid of the mold. And not removing the mold entirely leaves you with the higher risk that it will come back. The area need to be thoroughly scrubbed, scrapped etc. to be sure that all of the mold has been entirely removed (not just "washed").

If it helps, here is a link to the Environmental Protection Agency's (EPA) website regarding removing mold: http://www.epa.gov/mold/cleanupguidelines.html

Hope this is helpful.
Home-Wizard.com

FOLLOW-UP FROM Kimberly
QUESTION from Kimberly on 4/24/2009
thank you....the dishwasher that leaked is gone, a new one installed...mold was scrubbed and scraped before new unit put in....while they are NOT there for the next 6 months is there anything they should do??
---

ANSWER FROM HOME-WIZARD
Kimberly:

Oh I see. Yes, if you have got it back "good as new," then I cannot think of anything special that would need to be done while gone for 6 months.

The key however is that it is as good as new behind you dishwasher. Because if you are located in a region of the country where it gets very humid and hot in the summer, and you are leaving off the A/C while gone, then if there is still some mold behind the dishwasher then this can begin to cause you problems again. But if it's as good as new, then there's nothing special it should need.

On a related topic, if you (or they) are going to be out of the house for 6 months over the summer, then you might want to look at the answer to a question we gave back on 4/4/2009, where we described all of the recommended things that you should do to "summerize" your home when you are going to be out of the house for a long period over the summer:

http://www.home-wizard.com/AskTheWizard.asp

Hope this is helpful.
Home-Wizard.com

FOLLOW-UP FROM Kimberly
QUESTION from Kimberly on 4/24/2009
Thank you so very much!! I appreciate your time and knowledge.

take care